This well-designed transverse twin has matching numbers and is a very rare German motorcycle.Founded at the height of WWI to manufacture armaments, Zündapp found a new role post-war as a producer of motorcycles under the direction of new owner, Dr Fritz Neumeyer, building its first machine, a Levis-powered two-stroke, in 1921.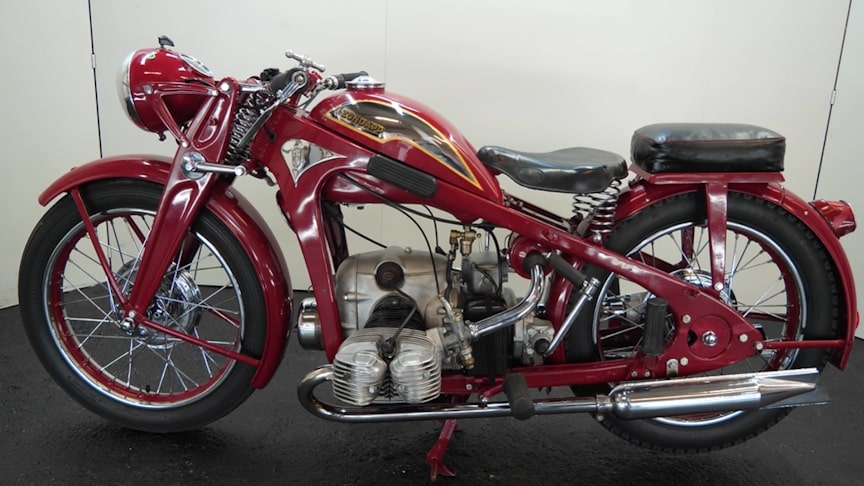 source.image: classic-motorcycle.com
The firm began making its own engines in 1924, selling more than 10,000 machines that year, and in 1933 introduced the first of the four-stroke flat twins that it is best remembered for. The initial 398cc and 496cc sidevalve models were followed in 1936 by the overhead-valve KS 500 which, like its predecessors, employed designer Richard Küchen's unconventional all-chain four-speed 'gearbox' and shaft final drive.
Common to the larger models and eminently suited to withstanding the stresses and strains imposed by travel on unmade roads, the robust frame and girder forks were made of pressed steel, an advanced feature at the time.
Advertisement
The KKS 500 was the sport version of the KS 500. The KKS was lighter and gets more top speed than the KS 500. Many private racing enthusiasts used the KSS500.
Year: 1938 Displacement: 496 cc Cylinder: 2 – transverse Engine type: 4-stroke / ohv Bore / Stroke: 69 x 66.6 mm Power: 24hp @ 5.200 rpm Compression Ratio: 1 : 6.6 Weight: 178 kg Top Speed: 140 km/h