Airbus A340 is a long-range, wide-body commercial passenger jet airliner that was developed and produced by the European aerospace company Airbus.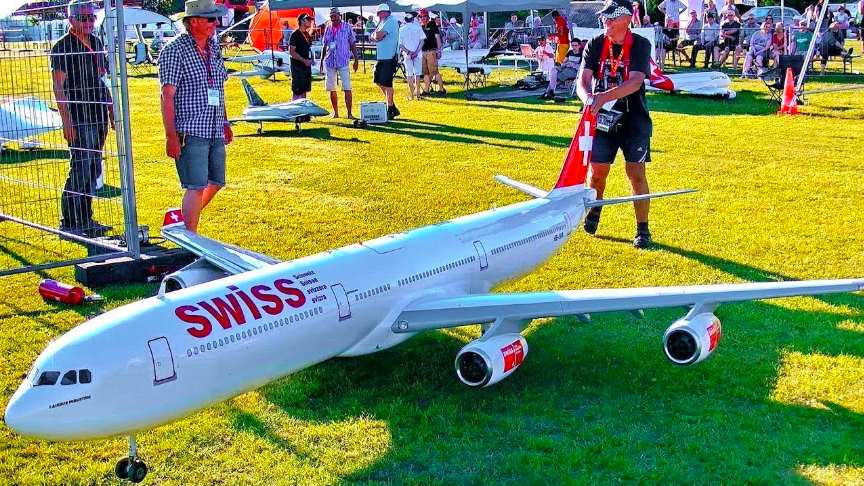 source/image(PrtSc): RC MEDIA WORLD
Here we have a giant scale 1/13 RC RC Airbus A-340-300 airplane which is powered by 4x JetCat P80SE Turbine, the model airplane has a wingspan of 4.30m, a length of 4.90m. The take off weight of the airplane is app.60kg.
It has an epoxy resin fiberglass fuselage in plain white Swiss Airlines gloss paint, and features pneumatic brakes, scale wheels, scale air up/spring down retract units.The model has a 10l Kerosene fuel tank that burns through 0.3 gallons a minute.
Advertisement
The builder of this airplane is Henri Wild and the pilot flying this airplane in this video is Lothar Heinrich at C Airliner Meeting in Germany (Oppingen) June 2019.Due to the special design of the leading edge of the wing, the model has extremely good-natured slow flight characteristics.//RC MEDIA WORLD
Model: Airbus A-340/300
Engine: 4x JetCat P80SE Turbine
Wingspan: 4.30m
Length: 4.90m
Take-off weight: 63Kg
Scale: 1/13
Tank: 10 Liter Kerosene
Pilot: Lothar Heinrich
Builder: Henri Wild
Event: RC Airliner Meeting in Germany (Oppingen) June 2019