New Imperial was a British motorcycle manufacturer founded by Norman Downes in Birmingham,between 1887 and 1901, and became New Imperial Motors Ltd in 1912, when serious production commenced.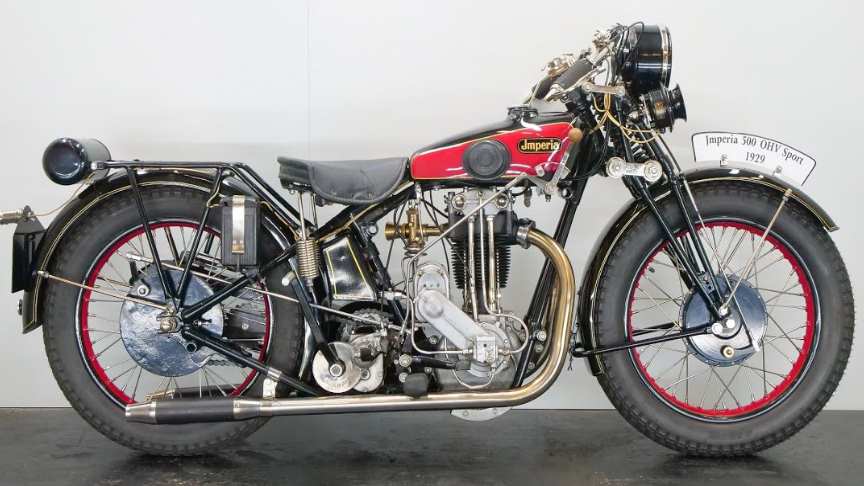 source/image: classic-motorcycle.com
This fine Imperia is fitted with a Bosch lighting set, Bosch horn, Bosch MagDyno, B&B carburetor, steering damper and speedo. It has been restored in 2019 to high standard.read more: classic-motorcycle.com
Early in the 1930s famed Dutch designer Arthur F. Dom joined the firm, and during this period models with MAG 497cc IOE, 678cc V-twin ohv JAP and Sturmey-Archer 346cc engines were developed, but mainly 248cc, 348cc and 498cc four-valve Rudge-built Python proprietary ohv four-valve singles.
Advertisement
In 1932, New Imperial started to use unit construction, where the engine crankcase and gearbox are incorporated in the same casting. They made a Unit Minor 150 and Unit Super 250. They continued to use unit-construction, and some models used Bentley and Draper sprung frames, in an era still dominated by rigid frames.
Manufacturer: Imperia
Model: H
Year: 1929
Capacity: 500ccm MAG
Engine type: 4-takt / ohv
Cylinder: 1
Power: 22hp
Bore/Stroke: 82x94mm
Top speed.: 125kmh