This Ardie RBU 505 combination is a older restoration. This Ardie is equipped with a Bing carburetor and a complete lightning system. The motorcycle and sidecar is a real eye catcher for enthusiasts. The motorcycle runs well.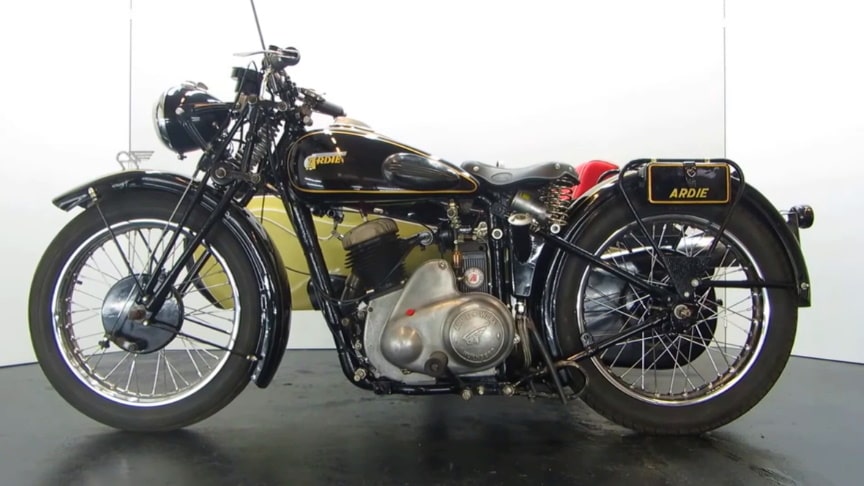 image: classic-motorcycle.com
Ardie motorcycles were produced in Nurnberg in Germany between 1919 and 1958. The first 305cc two-stroke motorcycles had round and red gas tanks, so they were nicknamed "Minimaxes" after a fire extinguisher brand. Later they built 348cc two-strokers.
1922 the man who founded the Ardie factory, Arno Dietrich, died during a test ride. In the middle of the twenties they switched to 347cc-990cc JAP engines, among them 347, 498 and 990 V-2-ohv racing models. Drivers like Georg Thumshirn, Darl Dobberkau and Gerd in der Elst were very successful with Ardie racers. Many models with own and Sachs, Sturmey-Archer, Bark and Kuchen 123, 173, 198 and 500cc engines were built in the following years.
Advertisement
After World War II the factory built motorcycles with their own cross-flow two-stroke engines designed by Dr. Noack with displacements of 124, 172, 194, 246 and 344 cc. The larger engines were twn cylinder parallel two-strokes. Some of these engines were supplied to other manufacturers, including the Swedish Monark factory. In the final years Ardie belonged to the Durkopp factory.