This machine has been restored from ground up and is in amazing condition.In 1916 Joseph Monet (engineer) and Adrien GOYON (from a wealthy family in Mâcon) began a venture to manufacture pedal-powered vehicles for the disabled veterans.Monet & Goyon was formed on April 2, 1917, with their first product named the Vélocimane.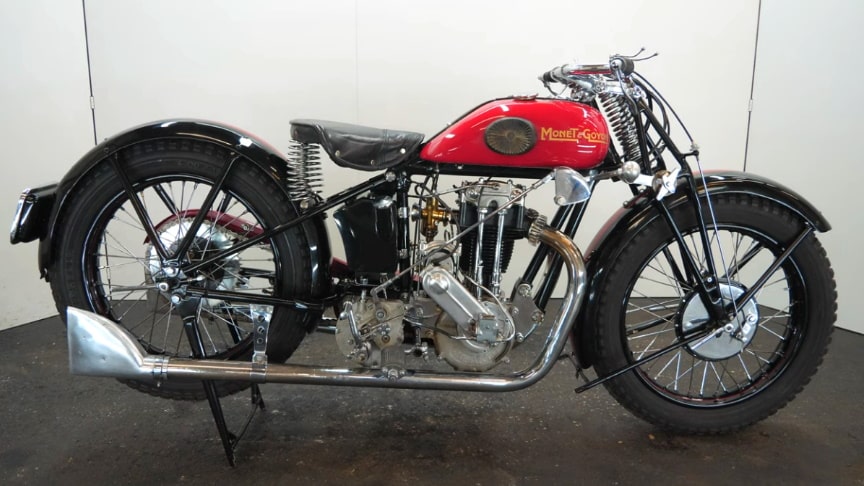 source/image: classic-motorcycle.com
In 1922, Monet & Goyon began building Villiers engines under license and this engine was fitted to all existing models. Two years later their first sports machine was presented, the 175cc "ZS". This was followed by the 1925 "Brooklands TT". The bright red machine proceeded to sweep all before it in competition winning numerous laurels in France and taking 20 world records.
That same year the first four-strokes appeared, powered by MAG engines, and these too were built in France under licence. From 1925 on MAG engines were also utilized; to such an extend that M&G became a top customer of the Swiss factory.
Advertisement
Two "Supersport" models were available, the 350 cc G with bore x stroke of 72×85 mm and the 500 cc H with bore x stroke of 82×94 mm. Joseph Monet died of tuberculosis in 1926, and his role was filled by his brother Marcel. New engines from MAG appeared in 500cc models MC5 and MC5S in 1927, and in 1929 belt-drive models were finally phased out and the first of the saddle tanks appeared./classic-motorcycle.com
Displacement: 350 cc
Cylinder: 1 MAG
Engine type: 4-stroke / ohv
Bore / Stroke: 72 x 85 mm
Power: 13hp @ 5.000 rpm
Weight: 140 kg
Top Speed: 100 km/h